Table Manners Pekanbaru
Table Manners Pekanbaru
The basic rules do not vary when people sit down together on a formal dinner or a much more casual occasion. Table manners are the rules of etiquette used while eating which may also include the appropriate use of utensils. Good etiquette can help create a positive impression on clients and colleagues while poor etiquette can harm your image, lead to embarrassing situations and even ruin a business deal.
So, whether you are hosting a formal dinner or you are a guest at a business dinner, take a deep breath, relax and listen up. Our experienced staff will walk you through a world-class table manners course. Learn proper table etiquette while sampling dishes from our kitchen in Pekanbaru.
This program will enable you to be more confident. Whether dining with a friend, colleagues, or clients, you will handle yourself with confidence, style and in a world class manner.
Here's a snapshot from the Table Manners course held at Winstar Hotel Pekanbaru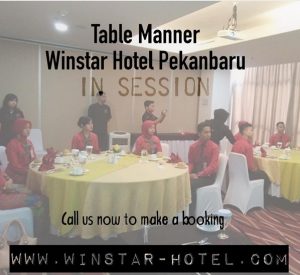 Reservation and Enquiries:
Winstar Hotel Pekanbaru
Phone +62.761.23588 or email us with your requirements