Ramadhan Buffet Dinner Promotion 2014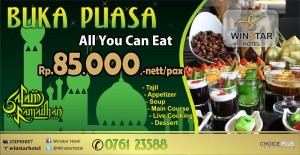 This Ramadhan, come and visit us for buffet dinner in our Maple Tree Restaurant.
Diners will have the opportunity to buka puasa (break fast) with an abundance of delicious delights specially prepared by Executive Chef and his team. Buffet menu ranges from refreshing appetizers (including Ta'jil), soups, mains, and desserts comprising of variety traditional Indonesian cuisine and Asian cuisine.
For table reservations from 29 June – 28 July 2014, call +62 761 23588 ext 170 or email reservation@winstar-hotel.com.