Pekanbaru
Visitor Information
Pekanbaru is the capital city of Riau province, Indonesia. Strategically located in the Sumatra island, people can travel to and from Malaysia/Singapore conveniently by flight. For domestic flights, Pekanbaru serves Jakarta, Medan, Bandung, Yogyakarta, Batam, Tanjung Pinang, and many more local cities within Riau province. The airport is Sultan Syarif Kasim II International Airport.
Average temperature throughout the year is between 23 – 31 degrees. In a year, we will notice a dryer months peak at July and wetter months with lots of rains around November.
Bahasa Indonesia is the formal language spoken in Pekanbaru, which is quickly followed by Minangkabau and Malay languages. This is due to the great population of both ethnics in the city. In addition, Hokkian is greatly spoken by Tionghoa people as well.
Now there are more than 1.1 millions people living in Pekanbaru. We have seen economic growth in recent years due to oil revenues. Most of Indonesia's petroleum is produced in Riau. International oil companies such as Chevron from USA as well as other local companies have established their offices in Riau province.
Below is the picture of Pekanbaru airport that has been operating since 1980s.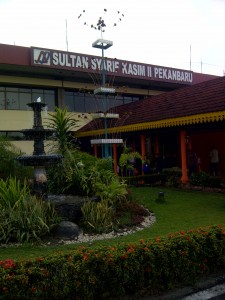 From 2012, the new airport of Pekanbaru has been operational. It is now bigger with modern look and cater for more passengers.