Coming up in August 2013
Hello Everyone!
August 2013 is going to be a big month for us here in Indonesia. We are going to celebrate Hari Raya (Idul Fitri) which falls on the August 8th. Festive season is ahead of us so our kitchen will be busy cooking up.
Apart from that, we will also celebrate the 68th year of our Independence day which falls on the August 17th. Another milestone for Indonesia! How great! You will find a lot of commercial buildings and residential houses putting up Indonesian flags on display all across the streets. Things are exciting for us too because we will hold ceremony on the day.
Don't forget to check our photos on Facebook to see what we are up to. Last but not least, we have a special food & beverage for August this year. Our famous healthy Green Juice and the mouthwatering Grilled Ribs (Iga Bakar). OK. That's exactly what I'm going to have for lunch now.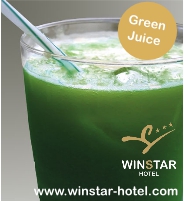 Until my next post, I'll see you around 🙂